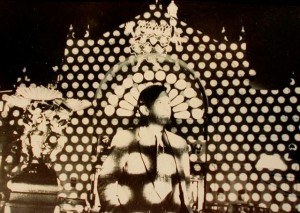 Hugh (aka Humania) is a Melbourne-based lighting and projection artist who has been involved with lighting for new music, dance, artists and festivals since 1968. A pioneer of outdoor projection in Australia, Hugh uses projectors as a musician would an instrument or a painter a palette, utilising lasers, slides, dyes, fluids and special effects to create unique images. He uses as his canvas surfaces as diverse as buildings, landscapes and beaches.
Video
Hugh at the Gertrude St Projection Festival, 2012.
Gallery
A selection of posters and photographs from the Hugh McSpedden archive.
Career highlights
Hugh McSpedden aka:
Edison Light Company: 1968 – 1980
Giant Edison Screw (full on projects): 1970 – 1980
Astral Projections, (special small shows): 1970 – 1990
Humania Outdoor Projections: 1992 – present
International Groups worked with include – Buckwheat Zydeco, John Mayall and the Blues Breakers, The Monkees, Tangerine Dream, Spirit.
Other Groups worked closely with include – Ariel, Ayers Rock, Banana Fish, Caesars Palace,  Captain Matchbox, Carson, Daddy Cool, Eucalypso, Gondwanaland, Hunters & Collectors, Lipp Arthur, Madder Lake, McKenzie Theory, Mother Gong, North to Alaskans, Sanctuary, Spectrum / Murtceps, Tully,
Other Musicians and Composers worked with include – Ben Kettlewell, David Chesworth, David Tolley + Dure,  Ian Wallace, Lindsay Bourke, Mike Rudd, Peter Tahourdin, Phil Houghton, Seb Jorgensen, Steve Dunstan, Steve Warner, Andrew Garton.
Other Choreographers, Dancers, Performers –  Chris Mann, David Gulpilil, Katy Bowman, Pat Woollacott, Sally Woods, Sharon Hodgson, Figure 8.
Notable film collaborations include – Arthur + Corrine Cantrill, Michael Lee.
1966 – 68
8mm Experimental Films
"CERTAIN THINGS" Colour Image Superimposition. 15 mins
"ROCK MONTAGE" Austs first 3 Pop Festivals Superimposed imagery 20 mins
"FEMONTAGE" Body Projection, Superimposition 7 mins
"SUPERSAUSAGE" Finger Image Distortion 2 mins, Soundtrack – Arthur Cantrill
1968 – 70
Projections with (modified) Slide Projectors.
The JAM FACTORY, Prahran. My very first show! (My great Uncle was Managing Director of AJC-IXL when it really WAS the JAM FACTORY!)
In 1968 it was a dilapidated factory awaiting demolition in prep for construction of the Theatre Complex it is today!
Projections for "KLIK" a Total Environment totally filling the Beaurepaire Swimming Centre at Melb Uni/ Uni Arts Fest '69
Melbourne Arts Co-operative Shows
Indoor & Out Projections at Uni Arts Fest.'70 ANU Canberra
All Lightshows for T.F.Much Ballroom, Much More Ballroom, Carlton Country Club, Reefer Cabaret, and Stoned Again. Most for Q Club & many for Garrison & Pram Factory.
(Birth? of the famous LEAPING McSPEDDEN BROTHERS mock Acrobatic Troupe)
1970
"Resident" Light Show for Lipp Arthur / Lipp & the Double Decker Bros. featuring Joe Camilleri & the Lippettes!
And later, Johnny Toppers "North to Alaskans"
1971
Concert with JOHN MAYALL & the Blues Breakers at Q Club.
Concerts at La Mama and Conservatorium of Music with contemporary music group, NIAGGRA, (New Improvisors Action Group for Gnostic & Rhythmic Awareness)
Concert with TULLY, EXTRADITION, and SPECTRUM at Dallas Brooks Hall
Archimedean Light Sphere by Walker, Currie and McSpedden
1972
Concerts at New Music Centre with Peter Mumme, Chris Mann, Arthur Turnbull, and BALLET VICTORIA.
1974
Concerts with TANGERINE DREAM at Dallas Brooks Hall
1975
Kinetic Projections at Ewing Gallery with visiting German Contemporary Composer, Walther Haupt.
"CIRCA" Dance, Sound and Light with P.Mumme & A.Turnbull and Ballet Victoria at SUNBURY POP FESTIVAL.
Grant received from Experimental Film & TV Fund for 25 min 16mm Experimental Film, "MOMENTO" . Soundtrack Music by Steve Warner, Peter Mumme, Stevie Dunstan, Lynne O'Neil
Projections at "Down to Earth Confest" at "The Cotter" ACT
1976
SON et LUMIERE Concerts at Impressions Gallery Double Bay SYD. And Palm Beach Film Club
1977
"CIRCA" Performance, with P. Mumme, A. Turnbull, Ballet Vic. at Montsalvat, Eltham
1978
Exhibition of "KINETIC LUMINO DYNAMICS" at RMIT Storey Hall Gallery.
Lighting & Effects for "POEM ETERNAL" Dance Performanceby Eugenie Knox and the Dance of Life Company
1980
"e.g." Improvised performance with Chris Mann (voice), Peter Mumme (synthesizers), and Paul Prendergast (piano)
at ADELAIDE FESTIVAL.
Light Show for THE MONKEES at St.Moritz.
1982
Production of Building Projections at SYDNEY BIENNALE '82 these having been designed by visiting Polish-Canadian Artist, Krzysztof Wodiczco, and projected onto the Art Gallery of NSW, Qantas, MLC, and American Express Bldgs.
1983
Commissioned by Australian Opera to design Special Effects for their Production of "Valkurie" (Wagners Ring Cycle) at Sydney Opera House.
(After Sydney head for Nimbin to Light the 10th Anniversary Nimbin Festival but lose Van and most of equipment to fire,
on the way.)
"POLKA-DOTTING" of Royal Exhibition Buildings and surrounds, (1st of 5 times) under Fringe Festival umbrella. (self funded)
1984
"POLKA-DOTTING" of Melbourne Town Hall (Projections on 3 sides) as part of Victorias 150th Celebrations, Swanston Street Party. (Swanston St. roadway covered with grass for 2 City blocks!)
1985
"POLKA-DOTTING" of Main St. at Hepburn Springs Festival.
"POLKA-DOTTING" also of South Melb. Town Hall (twice-Charity Balls), Fitzroy Town Hall (twice- Fringe events) St.KildaTown Hall, (Re-opening after Fire) Seamens Mission and various other buildings thru 80's, and on
1986
Projections (with Michael Batchelor – UFO) for Opening Ceremony of The AUSTRALIA GAMES at the old OLYMPIC POOL
Projections & Effects for "A Sensitive Chaos"
Choreographed by Katy Bowman, Music by David Worrall.
Part of "CHIMERA 86" at the Studio, Victorian Arts Centre.
"No 1." Multimedia Performance with Peter Mumme, Ros Bandt, and Graham James. 10 Performances.
1987
"ILLUSTRATED MUSE" 28 Projector Son et Lumiere 20 perf.
"FIELDS OF VISION" 42 Projector Son et Lumiere et Danse.
60 performances. Both shows- Music by Peter Mumme & various Artists, Dance by Megan Jack,  Lacie May and Sally Woods.
(Acquire [what was then] the Brightest Slide Projector on Earth!) for 4G. (12G new) RRP climbs to 85G over nxt few yrs
1988
"COLLABOREE" Light, Sound, Dance (as above) as part of "CHIMERA 88" at the Studio, Victorian Arts Centre.
"Comet of Love" Project with Luna Freya, Mike Batchelor (UFO) and Dancer, Pat Woollacott
"McSpedden Lights the BIRTHDAY CAKE" Royal Exhibition Building Projections- Spoleto Fringe Festival (self funded)
1989
High Power Outdoor Projection Extravaganza for Carnivale – Buckwheat Zydeco (U.S.) Concert at Darling Harbour, Sydney.
1991
Work with Judy Jacques and Wild Dog Ensemble.
Commissioned to design and produce Effects  for the Musical "HAIR"
1992
Design and Produce Effects for Melbourne International  Film Festivals opening party.
Begin work with WURRUNDJERI TRIBE.
"HUMANIA LIGHTS THE BIRTHDAY CAKE"  Exhibition Buildings revisited to celebrate  Melbourne Fringe Festivals 10th Birthday. (self funded)
1993
"Artist in Light" for contemporary Opera
"To Traverse Water" produced by IHOS Opera Directed by Constantine Koukias (in Hobart)
1994
Special Effects for "Medea" for South Australian State Theatre, Adelaide. Dir. Constantine Koukias. Highest grossing production in State Theatres history.
"Artist in Light" for IHOS Operas "Mikrovion" (Small Life) the first Opera concerning AIDS. Dir. by Constantine Koukias. (Hobart)
Work with "Splinters" Theatre of Spectacle and "Fruit Fly Circus" at Wodonga High School.
Work with "WAAK WAAK JUNGI" (crow fire) at Montsalvat. Band members include, Bobby Bunungurr, Jimmy Djamunba, David Gulpilil, Peter Mumme, Anton Baker, Sebastian Jorgensen, Rhiannon Jorgensen, Sally Grice.
1995
IHOS Opera performances of "To Traverse Water"  in Sydney and Melbourne.
1996
"Trance Australia" Mobile Sand and Light performances at Darwin Festival. with Peter Mumme.
1997
Warrandyte Festival. Random Mobile (in transit) Projections and Searchlight.
Maribyrnong Arts Precinct. Effects and LIPS projected onto Newport Power Station and chimney. Waterwall Projections for Mutoid Waste Co. event.
Beacon (Southbank) Christmas Projections. And assistance with fabrication of Down Street Studios Southbank "GLOBE"(1 week)
1998
Warrandyte Festival. "RIVERIE" Son et Lumiere on the Yarra. Projection, Waterwall, submerged Lumia. Sound P. Mumme
North Melb. Town Hall reopening. (North Melb. Arts House) – Exterior Projection. (8 nights)
Maribyrnong Arts Precinct. Waterwall Projection & high-speed scanning Searchlight for Mutoid Waste Co. event.
Melbourne Festival. "BEAMING THE THEREMIN" Exterior and Interior projections, Concert at Grainger Museum, Parkville.
Amnesty International Concert. Melb. Town Hall. Ext & Int. Projections
1999
Warrandyte Festival. "RIVER DREAMING" Son et Lumiere on the Yarra River. Sound- Peter Mumme + H McS
Written Word + Assistance- Glen Jameson
2000
Filmic contributions to "Long Way to the Top" TV Series
2001
2002
Acquire my first Video (Auditorium) Projector
Return to making tiny "Films" for LCD Projection.
"Artist in Light" for IHOS Opera "LIGHTNING IN HIS HANDS" based on the life of Nikola Tesla. Directed By Con. Koukias
2004
Work with Judy Jacques at Eltham Festival,Waak Waak Jungi at Montsalvat, (miss "WOMAD" Performance due to RMIT "PUBLIC ART" course)
Kavisha Mazella performance in Warrandyte
Maireid Sullivan Concert @ Montsalvat
2005
Acquire equal brightest YAG Laser in OZ
'Rediscovery' of Rainbow coloured micro Fluids I call "Spectraluminescence" used briefly in my 1975 Grant Movie.
Research & Develop other exciting Fluid & Fire techniques!
"SPECTRALUMINESCENCE" VIDEO piece – titled "Screen PEACE" shown at Earthdance PEACE Festival, FEDERATION SQUARE 17 9 05. (World Peace Day)
Lights for BEACHNIKS Concert in Geelong
First R+R Lightshow using my 1st LCD Projector, (and my new Video FX) which resulted in 4 other engagements.
2006
Lights for BEACHNIKS Concert @ QDOS Gallery, Lorne
Free Reign Concert in W/dyte
Strange Memories by Anna Glynn @ W/dyte Festival.
Christmas Hills Festival.
Begin work on sorting and restoring 500+ images & Videos captured at St. Andrews Market, Christmas Hills Festivals, and Montsalvat Events between 1974 & 2006.
Lights for BOMBA Concert @ Hepburn Springs & Fitzroy.
2007
Lights for 2 SPECTRUM Concerts
Warrandyte Wonders (@ W/dyte Fest. March) & W. Film Fest
A 60th
Big West?
2010
Lighting and special effects for Tong Tana, Andrew Garton's artist in residence performance work, Dunmoochin Foundation, Cottles Bridge, Victoria.
Special effects and improvised projections for Chip Wardale's Black Ambient Ensemble, Dunmoochin Foundation, Cottles Bridge, Victoria.
2012
Gertrude St Projection Festival