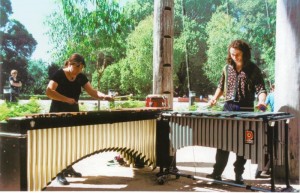 For the last 16 years Kate has been directing and performing with Ariel Valent in their marimba and vibraphone duo Invention in Time. Invention in Time have released three CD's and have performed at festivals around Australia including Port Fairy Folk Festival, Queenscliff Music Festival, Apollo Bay Music Festival and Woodford Folk Festival.
Invention in Time have also toured in Europe, highlights include being guests of "Days of Percussion" Music Festival in Stockholm, Sweden and being invited to perform at "The European Marimba Competition" held in Hasselt, Belgium.
They appeared on the ABC TV show Spicks and Specks 2006, and were asked back to perform for their 100th show in 2007.
October 2011 saw Invention in Time compose and perform the music to the 1920's silent film "Last of the Mohicans" directed by Michael Tournier. It was premiered at the Astor Theatre in St Kilda.
Kate also composes and directs The Shala Ensemble, a jazz/percussion group in which she performs on flute and percussion. As well as a residency at The Rainbow Hotel, The Shala Ensemble have performed at the "Going Green Festival" at Edenvale Farm in Eltham, The "Welcome back Platypus Festival" at Allwood House in Hurstbridge, The Boite Music Cafe, Eltham and The Eltham Jazz and Blues Festival 2009, 2010 in Eltham.
Other achievements include being awarded two 'Music for the Future' grants from Vic Arts Council, a three year artist residency at Clifton Pugh's artist colony 'Dunmoochin' in Cottlesbridge 2008-2010. More recently Kate composed and performed the soundtrack for two short documentaries directed by the well respected documentary maker Celeste Geer, and was musical director for 'Into the Light' festival for the City of Whittlesea.
Kate has a Bachelor of Music from the Victorian College of the Arts in percussion, 1994, and an Advanced Diploma in Jazz and Contemporary Music in flute from the Northern Melbourne Institute of Tafe, 2006.
Kate's enthusiasm, energy and genuine respect for those she works with, her years of experience and knowledge in many aspects of music and her love and passion for music and music education make her an engaging and highly sought after music educator and performer.
Music
Video
More data on Kate